Plantar Fasciitis Treatment in Rowlett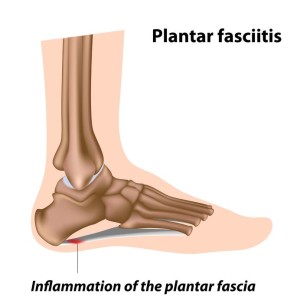 If you suffer from plantar fasciitis, treatment is available in Rowlett, TX. If left untreated, plantar fasciitis may become more painful over time. Casteel Foot and Ankle Center is conveniently located in Rowlett to provide plantar fasciitis care to Rowlett, Rockwall, Garland, Royse City, Wylie and Forney. If you are seeking treatment for plantar fasciitis, Dr. Casteel, DPM, and her team will examine you and recommend the best treatment options available.
Plantar Fasciitis Symptoms
Plantar fasciitis is a condition where the fascia, or tissue stretched from the toes to the heel of the foot, becomes inflamed by becoming overstretched. Pain may result in the bottom of the foot or at the heel bone. Pain tends to worsen over time, especially in the morning. The result of the inflammation is small tears that occur on the heel membrane, causing bone growths (heel spurs), causing pain and inflammation of the affected area. Both men and women suffer from plantar fasciitis.
Contributing factors that may result in plantar fasciitis are:
Obesity or Overweight
Standing for long periods of time daily
High arch or flat feet
Condition of Achilles tendon
Intense exercises
Certain types of shoes (high heel)
Other possible contributing conditions of legs
Plantar Fasciitis Treatment
Plantar fasciitis treatment will involve an examination by Dr. Casteel, DPM, to determine the cause of the pain and recommend the proper treatment. Our foot and ankle surgeon will prescribe the proper treatments to:
Reduce the stress on the plantar fascia, improving flexibility and strength.
Ensure proper healing of the tears involved in the plantar fascia.
Reduce and eliminate the heel pain and inflammation.
Return to normal activities.
Non-surgical options may be recommended by the podiatrist to correct the plantar fasciitis. These options may include:
Exercises and stretching
OTC medications for pain and inflammation
Resting or limiting from daily activities for foot rest
Proper shoes
Inserts or orthotics
Splints
Casting
Surgical options may include repairing the plantar fascia ligament and removing any heel spurs.
Call for Plantar Fasciitis Treatment
Plantar Fasciitis treatment available in Rowlett, TX. Casteel Foot and Ankle Center is conveniently located in Rowlett, serving the Rowlett community and the surrounding area. Contact us online or call to schedule an appointment at 972-301-7051 with our foot & ankle surgeon. Our office staff will make your visit comfortable and pleasant.