Heel Spur Treatment
Heel spur treatment is available in Rowlett, TX, at Casteel Foot & Ankle Center. Dr. Catherine Casteel, DPM, and her team will work to find the source of your heel pain and determine the best course of action to restore optimal foot health. Our office provides a comfortable environment making your visit a pleasant experience.
Heel Spur Symptoms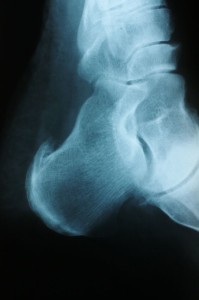 A heel spur is a build up of calcium on the heel bone. In some cases, heel spurs are painless, but they can be the source of pain for many. Heel spurs are generally caused by the straining of ligaments and foot muscles, the plantar fascia being stretched, and the membrane covering the heel bone tearing repeatedly.
Heel spurs many times are associated with plantar fasciitis. Athletes who run and jump often in their sports are more likely to suffer from heel spurs. Other causes that may lead to heel spurs include:
Abnormal walking gait
Ill-fitting shoes
Jogging or running on hard surfaces
Obesity
If the heel spur continues to cause inflammation, additional medical conditions may develop, such as Achilles tendon as well as plantar fasciitis.
Heel Spur Treatment
Treatments for heel spur conditions are able to reduce or eliminate heel pain. After an examination and X-rays, our Rowlett heel pain specialist will determine the best course of treatment to relieve heel pain. Non-surgical approaches may include:
Orthotics or shoe inserts
Stretching
Recommended shoes
Physical therapy
OTC pain medication
Corticosteroid injections
If the condition persist and are not responsive to the non-surgical treatments, heel surgery may be recommended. The foot surgeon may recommend surgical release of the plantar fascia and removal of the heel spur. Post-surgical treatment may include:
Casting or immobilization
Icing
Splints
Surgical shoes
Crutches or cane
If you suffer from heel pain due to heel spur conditions, call 972-301-7051 or 972-805-9985 to schedule an appointment with our heel pain specialist or contact us online. We are conveniently located to provide heel spur care to Rowlett, Rockwall, Garland, Royse City, Wylie and Forney.