Achilles Tendon Pain Relief
Achilles tendon pain relief options are available in Rowlett, TX. Casteel Foot & Ankle Center is conveniently located to serve the Rowlett community and surrounding areas. Dr. Catherine Casteel, DPM, our foot and ankle surgeon is available to examine your Achilles tendon injury and provide the best options for treatment. Her team will make you feel comfortable so your office visit is always efficient and pleasant.
Causes of Achilles Tendon Pain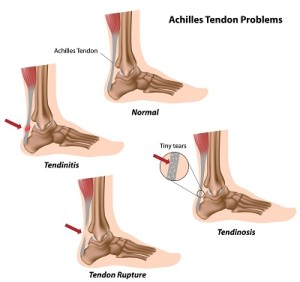 The Achilles tendon is located in the back of the leg and attaches the calf muscle to the heel bone. It is the largest tendon in the body, allowing you to push off or rise while supporting the full weight of the human body. Without your Achilles tendon, you could not walk. A variety of things can cause Achilles tendon pain, such as:
Heel or ankle injury
Wrong types of shoes
Shape of your heel
Condition of your calf muscles
Exercise
Any of these circumstances can develop into conditions that include Achilles tendon pain. For example, Achilles tendonitis occurs when the Achilles tendon becomes inflamed, irritated, sore, and stiff. Patients are diagnosed with "tennis leg" when the Achilles tendon has a rupture at the calf muscle. Torn or ruptured tendons can debilitate the injured person.
Achilles Tendon Injury Treatment
Treatment options for Achilles tendon pain begins with an examination and detailed questionnaire about your condition and medical history. After examination, potential non-surgical approaches would be explored:
Anti-inflammatory pain medication
Stretching
Changing shoes for certain activities
Orthotics
Icing for swelling and pain
Ultrasound
Cortisone injections
Physical therapy
If non-surgical approaches do not improve the condition, the doctor may recommend heel surgery to repair a tendon.
Call About Achilles Tendon Pain
If you suffer from Achilles tendon pain, contact us online or call our heel specialist at 972-301-7051 or 972-468-0966 to schedule an appointment. There is no need to suffer from heel pain any longer with the help of Casteel Foot & Ankle Center.