Heel Pain Solutions in Rowlett, TX
Heel pain treatment options are available in Rowlett, TX. Casteel Foot and Ankle Center is located to serve Rowlett and the surrounding communities. If you are suffering from heel pain, our podiatry heel specialist will ensure you have the best heal pain treatment options available. Dr. Casteel and her team strive to bring the best services available. Our office staff will take all measures to make your visit pleasant in a comfortable atmosphere.
What Causes Heel Pain?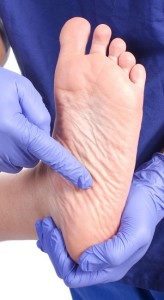 Heel pain can be caused by a number of reasons. Daily activities can be stressful to the feet especially if you are on them for a long length of time. Activities such as sports which causes stress on the feet, walking or running on different hard surfaces, or standing for long periods of time in certain shoes may be a cause for heel pain. Ignoring heel pain will not make it go away if you are doing activities that may have caused the heel to become painful. The condition will worsen and may become more serious if not treated.
It is important to find the cause of the heel pain and make an appointment with our heel pain specialist. The heel pain most common is at the bottom of the heel. Generally it may occur in the morning or after sitting for a while. The pain feels like a sharp throbbing pain, or it may feel like a soreness traveling up the calf or to the arch of foot. Some common causes of heel pain are:
Heel Pain Treatments
After a thorough examination, our heel pain specialist will find the right treatment options for you. An examination determining the causes may include questions of the activities which may contribute to the condition as well as x-rays to check for heel spur formation. Other non-surgical treatment options may include:
Aggressive stretching of the calf
Anti-inflammatory medication
Inserts
Splints
Cortisone injections
Arch supports
Orthotics
If the heel pain condition is unresponsive to non-surgical methods, heel surgery may be recommended.
Call for Heel Pain Treatment in Rowlett
If you are suffering from heel pain, call 972-301-7051 or 972-468-0966 or by contact us online to schedule an appointment for a thorough examination with our podiatry heel specialist to find out the options available to alleviate your heel pain.