Hammertoe Relief in Rowlett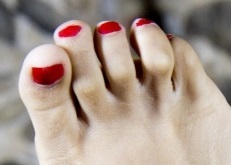 Hammertoe relief is available from Casteel Foot & Ankle Center in Rowlett, TX. Our podiatrist has extensive experience in diagnosing and treating hammertoe conditions. Hammertoe can cause pressure in the toes and, over time, become a serious condition. Dr. Casteel and her team will ensure you receive the highest quality treatment for hammertoe after a full examination. We are conveniently located in Rowlett, TX, with easy access from the cities in the DFW metroplex.
Hammertoe Symptoms
Hammertoe is a toe condition where the second, third, or fourth toes are bent in the middle joint to resemble a hammer or a claw-like shape. This condition usually develops after wearing ill-fitting shoes or footwear that creates muscle imbalance. A narrow shaped shoe may force the toes to bend downward. After a prolonged period, the toes will not be straightened out without pain. The hammertoe condition may also include the formation of calluses around the joint. Arthritis may cause hammertoe as can toe injury or genetic disposition.
A proper examination by our podiatrist will help determine the extent of your symptoms. Typical symptoms of hammertoe include:
Pain at the bent toe
Unable to move toe joint
Swollen toe joint
Pain on the ball of the foot near the bent joint
Corns or calluses on the toe joint
Treatment for Hammertoe
If you suffer from hammertoe, Dr. Casteel, DPM, is an expert podiatrist in treating this common foot pain malady. After examining your condition, our foot specialist will prescribe the best treatment for hammertoe. Nonsurgical treatments may include:
Roomy shoes with wide toe box
Toe exercises
Straps
Cushions
Depending on the condition of the hammertoe surgery may be an option if nonsurgical treatments do not improve the condition. Surgery may consist of straightening the toe by cutting the ligaments and tendons or possible bone fusion.
Call for Hammertoe Relief Today
Call 972-301-7051 or 972-468-0966 and schedule an appointment with Dr. Casteel, our podiatrist, for immediate hammertoe care. We are located in Rowlett, TX, ready to serve the local community and surrounding areas of North Texas. Our office staff is strives to make your visit pleasant, so don't hesitate to contact us online as well.