Diabetic Foot Treatment in Rowlett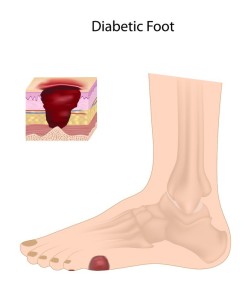 If you have diabetic foot pain, complications or numbness, treatment is available from our diabetic podiatry specialist in Rowlett, TX. Led by foot specialist Dr. Casteel, Casteel Foot & Ankle Center serves the local community regarding diabetic-related foot issues. Diabetic foot, if left unchecked or untreated, can develop complications as more time passes. Our foot specialist and her team administer the highest quality medical care for diabetic foot conditions to help maintain your podiatric health.
Symptoms of Diabetic Foot
Diabetics have high blood glucose levels that damage nerves and blood vessels over time. Ongoing nerve damage may cause a loss of feeling in your feet, known as neuropathy. When you lose feeling in your feet, you may not detect a simple cut, sore, or blister. If these relatively non-threatening injuries are not treated promptly, they may lead to infections and ulcers. A diabetic's body takes longer and is more difficult to heal with the reduced oxygen levels connected to damaged blood vessels.
Symptoms of diabetic foot may include:
Swelling of the foot which may indicate infection
Redness or irritation if a sore or wound present
The onset of these symptoms are gradual, but develop more serious after effects with time.
Treatment for Diabetic Foot
If you have diabetes and believe you a foot issue, our diabetic podiatry specialist will examine you to determine the extent of the condition. In cases of diabetic foot it is recommended to:
Examine your feet daily by checking for cuts.
Always wear socks and shoes.
Inspect skin and keep soft
Trim toenails carefully.
Wash feet daily.
Ensure blood flow to feet.
Protect feet from extreme temperatures.
If the condition is severe, our foot surgeon may recommend medication, exercise, surgery to repair damage. In addition, physical therapy may be prescribed to improve conditions of diabetic foot.
Schedule Diabetic Foot Treatment
If you believe you suffer from diabetic foot, contact us online or call 972-301-7051 or 972-468-0966 to schedule an appointment with our diabetic podiatry specialist. After properly examining your foot condition, Dr. Casteel and her team of podiatrists will provide the highest level of care.