Gout Treatment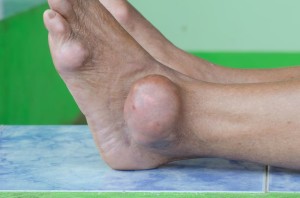 Casteel Foot & Ankle Center is located in Rowlett, TX to serve the local area and its surrounding cities for gout. Dr. Casteel, DPM, and her podiatry team will ensure you receive the highest level of care and treatment for your gout pain.
What is Gout?
Foot gout is an arthritis caused by too much uric acid in the blood. High uric acid levels in the blood may not always cause gout in people, but if they get too high, then uric acid crystals may form in the joints. The big toe is affected, usually at night. It can cause pain, swelling, and stiffness.
Foot Symptoms with Gout
Pain is one of the initial gauges that something is wrong with your feet. Common signs of foot gout are usually a nighttime attack of pain in the big toe joint, which may also involve:
Tenderness
Swelling
Sharp pain
Redness
The symptoms may last days for weeks and then go away, but can return again in weeks or months. If you eat foods high in purines, such as certain fish and meats, or drink too much alcohol, chances of getting foot gout are higher.
Treatments for Gout
Our podiatrist at Casteel Foot & Ankle Center is an expert in foot gout and the best course of treatment available. After a full examination, our podiatrist will see the condition of the gout, and recommend the best treatment options which may include:
Corticosteroid shots
Medications
Anti-inflammatory medication (not aspirin)
Rest
Nutrition
Avoiding alcohol
The medication will reduce the uric acid build up in the blood. Relief from an attack can happen as soon as 24 hours. Suffering from foot gout pain is needless. If you suffer from foot gout pain, contact our podiatrist for an examination and answers to your questions.
Call Our Office About Foot Gout Relief
Call 972-301-7051 or 972-468-0966 or by contact us online to schedule an appointment for relief of foot gout pain. Casteel Foot and Ankle Center is appropriately located in Rowlett, to serve the Rowlett community and the surrounding area. Our skilled podiatrist and her team will ensure you receive the attention you need for effective, lasting relief of foot gout.